Mixing Zero to Hero Live Course – Dec 2023
Learn Mixing in 2 months in Live Instructor Led Online Classes
Mixing Zero to Hero Live Course – Dec 2023
Learn Mixing in 2 months in Live Instructor Led Online Classes
What will you Learn
You will learn the tools of the professional mixing engineer

You will understand how to achieve proper Balance in volume and pan

You will learn detailed concepts of EQ, Compression, Saturation, Automation, Distortion, Echo, Delay, Reverb etc

You will learn the Philosophy of Mixing

You will learn Mixing Beats, Melody and Vocal based Productions

You will understand Complete Vocal Editing, Vocal Processing and Vocal Mixing

You will learn techniques to use plugin chains with Sidechained Bussing
Digital Audio Workstation Software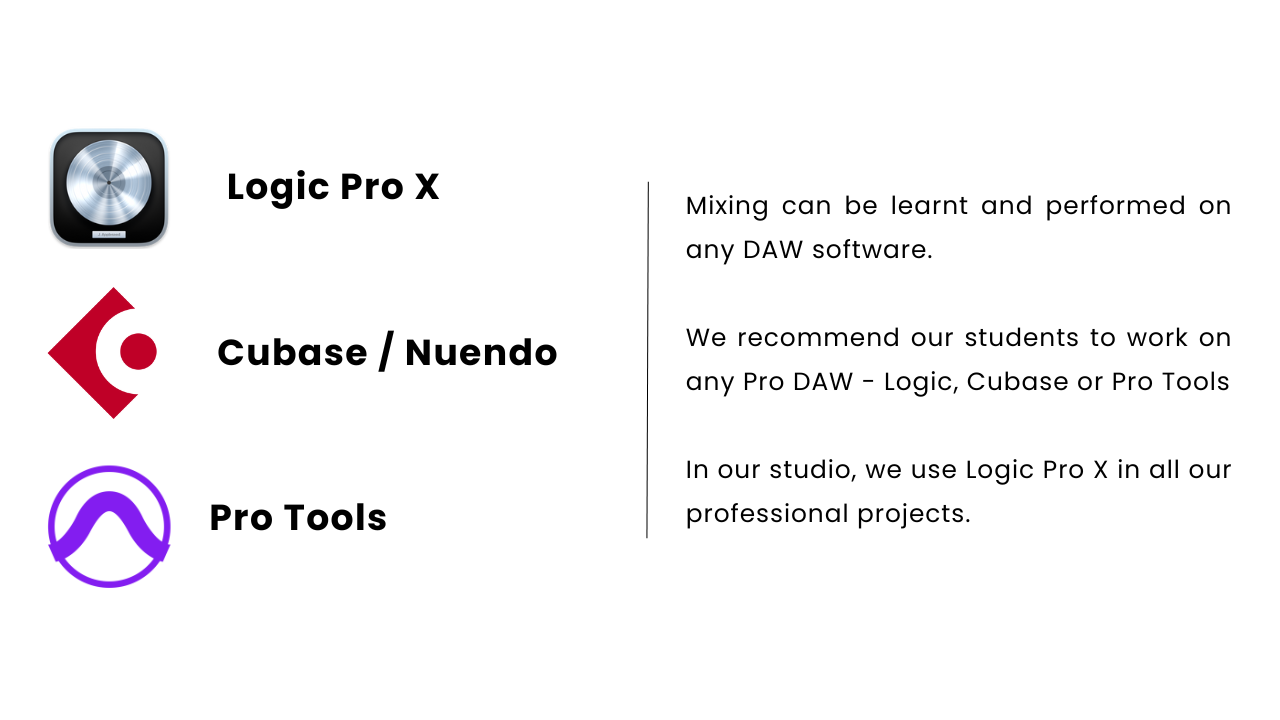 Early Registration Offer Price
* Prebooking offer closed for this course
This course includes
32 hours Live Training

Tests & Assignments

Lifetime Class Recording access

Completion Certificate
Requirements
Experience in any Professional DAW (Pro Tools, Logic, Cubase, Nuendo)

Strong Internet connection recommended
Who can Learn
Intermediate Music Producers

Advanced Music Producers

Mixing Engineers
Please Read Carefully the
Terms of Service Agreement
before proceeding. By Proceeding further towards enrolment of the course from this point onwards you accept you have read and agree with the Terms of Service Agreement.
Do you really NEED this course?
A lot of Music Production Aspirants get in doubt whether they really need to enrol in a professional course.

Take a Free test and find out by yourself!
This Mixing Zero to Hero course offered by AMS Academy teaches you  the whole range of Professional Mixing Tools, Best Practices and Hands-on Training required to become an expert in Mixing. There are 30 sections divided into 3 categories filled with concepts, project  analysis, practice projects and hands-on training.
Practical Mixing Technique
Gain Staging for a Proper Headroom
Color Coding Tracks and Regions
Creating Instrument Rooms
Creating Mono Switches for quick toggle
Problem with Basic Mixing Techniques
Focused Mix vs Balanced Mix
What is Key Focus Technique?
Use Key Focus technique to quickly balance a mix
Balancing and Panning
Basic Frequency and Dynamics (EQ, Comp, Sat)
Basic Space and Width (Rev, Delay)
Key Focusing our basic mix
Balancing through Key Focus mode
Creative Dynamics
Frequency Separation / Unmasking
Mono Compatibility
Gain Staging before Master Chain
Mastering tools – Multi Band Compressor, Dynamic EQ, Limiter
Metering tools – Loudness (dbFS) Meter, Correlation Meter
Manual vs AI Mastering
Ozone Mastering
Breakdown / Analysis of multiple Client Projects
Breakdown / Analysis of Pet Projects
Class test Mixing Hands On Project
Mixing Final Project